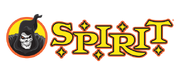 Spirit Halloween LLC is a seasonal retailer that supplies Halloween decorations, costumes, props and accessories. It was founded in 1983 and is based in Egg Harbor Township, New Jersey. In 1999, the store had 60 seasonal locations and was purchased by Spencer Gifts. Today, The popup retailer has over a thousand locations across the country.
Business operations
[
]
During the Halloween season, Spirit has over 1,400 store locations in North America. The Spirit Halloween website is open year-round, offering its in-store products online. The store carries decor manufactured by Tekky Design, Gemmy, Yu Jun, Seasonal Visions, Crazy Create, NewRaySun, PartyTime Costume, Seasons USA, and Morbid Enterprises. Many decorations are exclusive to Spirit.
In late summer Spirit Halloween typically puts out teaser videos on social media and YouTube to create excitement for new items. A few days later the videos are followed by another one officially revealing and announcing the item.
The retailer typically makes use of vacant retail space. The stores typically operate for 60 to 90 days, opening sometime in early to mid-August and usually closing two or three days after Halloween. It has seen increasing usage during the retail apocalypse of the 2010s.
Spirit Halloween's start
[
]
Joe Marver created the Spirit Halloween business model, a pop-up store catering to Halloween revelers. Starting with his first pop-up location in the Castro Valley Mall in 1984, he grew Spirit Halloween to 60 seasonal stores nationwide before it was acquired in 1999. His approach to short-term leases, locations, and the stocking of widely varied merchandise was novel in the Halloween retail sector.
Today, the Spirit Halloween network of pop-up stores is bigger than any other specialty retailer in the category, with new ownership expanding Marver's original concept to more than 1,100 locations across North America. Spirit Halloween serves a Halloween consumer market estimated at $8.4 billion dollars yearly, according to the National Retail Federation. Spirit Halloween is known for its large selection of costumes and Halloween decorations. Since 2007 they made themed displays of the animatronics and props they made for the year.
Spirit of Children
[
]
In 2006, Spirit launched a program called Spirit of Children to raise money in-store for children's hospitals. The program annually celebrates Halloween at hospital locations, supplying costumes and decorations for the events. Since 2007, Spirit of Children has raised over $29 million in donations.
Health Canada Recall
[
]
On October 21st 2016, Health Canada recalled eight products from Spirit Halloween, for fire hazards and choking hazards. According to the article from Health Canada, "On several occasions, Spirit Halloween has agreed to voluntarily stop sale or recall products that do not meet Canadian health and safety regulatory requirements. However, Health Canada recently visited 45 stores across Canada and found that 23 stores continued to sell products that Spirit Halloween had previously agreed to stop selling or recall."
External links
[
]